FOR IMMEDIATE RELEASE:  
September 4, 2019
CONTACT: [email protected] 
What They Are Saying: Farmers Are Fed Up with President Trump
WASHINGTON, D.C.
–
The One Country Project (OCP) has compiled quotes from farmers across the United States who are feeling the negative impact of President Trump's trade war. These farmers, many of whom voted for Trump in 2016, are souring on his trade agenda and looking for new leadership in 2020.
"I am hearing from farmers in communities in North Dakota, and from rural Americans across the United States, that the President's trade war is devastating their family farms and manufacturing communities – closing markets and leaving harvests to rot," said Founding Board Member and former North Dakota Senator Heidi Heitkamp. "Farmers are fed up, and I believe it is clear that rural Americans are looking for an alternative to Trump's failed leadership."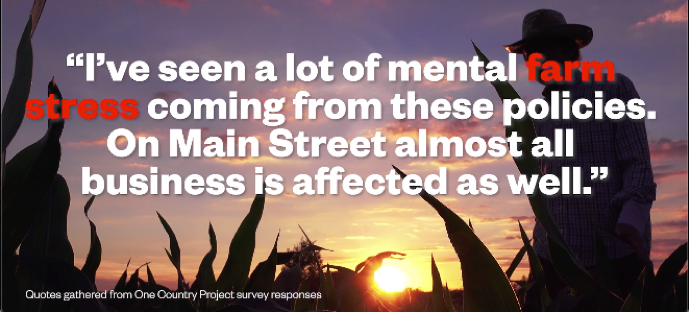 ---
"'Instead of looking to solve existing problems in our agricultural sector, this administration has just created new ones,' [National Farmers Union president Roger] Johnson said, adding that Trump was 'burning bridges with all of our biggest trading partners… Farmers are making half of what they were in 2013, and they've taken on record levels of debt just to keep their doors open.'" (Business Insider, 8/28/2019)
"A corn farmer from Fayette County, Vic Miller, said: 'Agriculture is in one hell of a bad situation right now. The government put us in this situation, and they need to help us get out of it. It's time for President Trump to make rural America and the RFS great again. He made promises to American farmers and now it's time for him to keep them.'" (Newsweek, 8/28/2019)
"American farmers have become collateral damage in a trade war that Mr. Trump began to help manufacturers and other companies that he believes have been hurt by China's 'unfair' trade practices." (The New York Times, 8/27/2019)
"'We're not starting to do great again,' Brian Thalmann, the president of the Minnesota Corn Growers Association, told Mr. Perdue at the event. 'Things are going downhill and downhill quickly… At some point we have to quit playing games and get back to the table and figure this out,' Mr. Thalmann said. 'There's no certainty to any of this.'" (The New York Times, 8/27/2019)
"'If he doesn't lose 100 percent of it from the farm belt then people are kind of crazy because this is not going well for farmers at all,'" [Bob Kuylen, a wheat and sunflower farmer from South Heart, North Dakota], told CNN host Don Lemon. 'I mean, some of them are trying to be faithful, they made that decision and voted for him but I would have to say in the back of their minds they are just not very happy right now.'" (Newsweek, 8/27/2019)
"'This trade thing is what's brought on by the president and it's really frustrating because he took away all of our markets,' [said] Bob Kuylen, a farmer from North Dakota." (Yahoo Finance, 8/25/2019)
"'[M]any of my neighbors, particularly younger farmers with a little bit of a more leveraged balance sheet, a lot of that patience is beginning to go away. So I think there's going to be some challenges for the Trump administration come election time if we don't see a turnaround in these trade markets,' [said Blake Hurst, president of the Missouri Farm Bureau]." (Yahoo Finance, 8/25/2019)
"'If people connected to agriculture decide to vote for the president, they're just voting to cut off their own economic prosperity,' said Nick Bowdish, CEO of Elite Ethanol in Atlantic… 'It's a train wreck out here,' Bowdish said, adding that the cutbacks will hurt small, rural towns and businesses the most." (Des Moines Register, 8/24/2019)
"'The [refinery] exemptions are ridiculous and a slap in the face to farmers,' said Curt Mether, president of the Iowa Corn Growers Association and a western Iowa farmer." (Des Moines Register, 8/24/2019)
"'Ninety-five percent of the corn grown on my farm goes to ethanol or ethanol-related products and when President Trump let the mandates fall off where they don't have to blend as ethanol it's really going to hurt the price of corn and hurt my bottom line,' local farmer Dan Magarity said." (ABC Local Affiliate, 8/22/2019)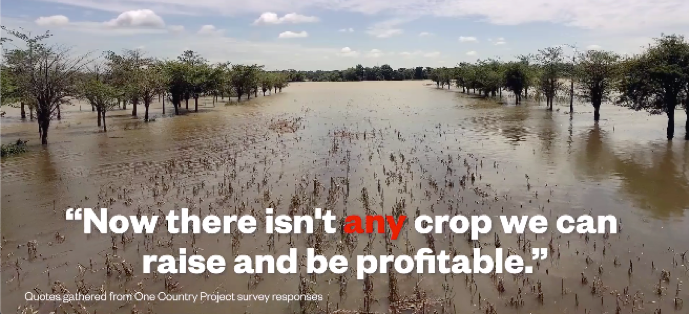 "'Any farmer who talked to the USDA guy who made the crop report would probably say something derogatory to him,' [James McCune, a farmer from Mineral, Illinois] said. 'I don't know anybody that agreed with that stuff.'" (Reuters, 8/21/2019)
"'Farmers are losing big time,' says Gary Wertish, [president] of [the] Minnesota Farmers Union, about China tariffs. 'It's coming from somebody that's never really had any soil underneath his fingernails... To tell us it's going to be great in the end, what is the end going to look like?'" (CNN Newsroom, 8/19/2019)
"'It already has driven some farmers off the farm, which not only hurts the farming community but it hurts rural – small rural communities,' [president of the Minnesota Farmers Union Gary Wertish] explained. 'It's been very devastating to rural America.'" (Newsweek, 8/19/2019)
"'Mr. President, Japan is the #1 market for US wheat exports on average,' the [National Association of Wheat Growers] tweeted out Wednesday. 'They don't buy our wheat because 'they want us to feel okay.' They buy it because it's the highest quality wheat in the world. That's not fake news.'" (Bloomberg, 8/14/2019)
"'This is a huge disappointment for farmers that have already been struggling with a lot of uncertainty with this corn crop, trade wars and what have you,' said Tanner Ehmke, manager of the research team at CoBank, a $138 billion lender to the agriculture industry. 'A lot of people were banking on the opportunity to sell at much higher prices. This report now really brings that into question… The financial stress is there and this isn't going to help farmers that are struggling.'" (Bloomberg, 8/13/2019)
"'I was a Trump voter. I voted for the president,' [Christopher Gribbs, a soybean farmer from Ohio] said. Now Gribbs is pushing back against Trump's trade policies and the retaliatory effects on American agriculture. 'It certainly frustrates me... He's lost on trade in three different ways,' Gribbs said when speaking about how the president has disappointed him on trade deals." (CNBC, 8/8/2019)
"[Gary Wertish, president of the Minnesota Farmers Union,] criticized Trump's 'go-it-alone approach' and the trade dispute's 'devastating damage not only to rural communities.'" (Bloomberg, 8/7/2019)
"Brian Thalmann, president of the Minnesota Corn Growers Association, complained about Trump statements that farmers are doing 'great' again. 'We are not starting to do great again,' he said. 'We are starting to go down very quickly.'" (Bloomberg, 8/7/2019)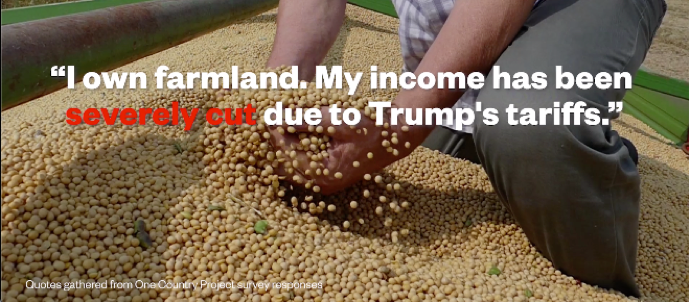 "Zippy Duvall, president of the American Farm Bureau Federation, the nation's largest and most influential general farm organization, called China's import cut-off 'a body blow to thousands of farmers and ranchers who are already struggling to get by.'" (Bloomberg, 8/5/2019)
"Roger Johnson, president of the National Farmers Union, the nation's second-largest general farm group, said Trump's 'strategy of constant escalation and antagonism' has 'just made things worse.' America's family farmers and ranchers 'can't withstand this kind of pressure much longer.'" (Bloomberg, 8/5/2019)
"'We don't want to be collateral damage,' Kevin Paap, a corn and soybean farmer in southern Minnesota, told me. 'If they don't reach a conclusion soon, it's going to be really somber times.'" (Vox, 5/17/2019)
"'The patience of American farmers has worn very thin,' Shayne Isane, who is borrowing money to keep his pork and soybean farm running in northern Minnesota, told me. 'If a trade deal can be reached then it was all worth it, but if it doesn't getting settled soon, it will be disastrous for American farmers.'" (Vox, 5/17/2019)
"'There was a sense that this was going to be a short-term fight and the mantra we constantly heard was, 'short-term pain for long-term gain,' said Brian Kuehl, co-executive director of Farmers for Free Trade. 'We heard there's a deal that's imminent, then it's not. We heard this was all going to be wrapped up quickly, then it wasn't.'" (Politico, 5/17/2019)
"'It has been insane,' [National Farmers Union vice president Patty Edelburg] told America's Newsroom anchors Sandra Smith and Jon Scott Thursday. 'We've had a lot of farmers – a lot more bankruptcies going on, a lot more farmer suicides. These things are highlighting many of the news stories in our local news.'" (Newsweek, 5/16/2019)
"'We have more commodities, more grain sitting on the ground now because we lost huge export markets,' [National Farmers Union vice president Patty Edelburg] said. 'We've lost export markets that we've had for 30 years that we'll never get a chance to get back again.'" (Newsweek, 5/16/2019) 
"The President of the United States owes farmers like myself some type of plan of action,' John Wesley Boyd Jr., a soybean farmer in Baskerville, Virginia, told CNN's Brianna Keilar on Monday. 'Farmers were his base. They helped elect this president... and now he's turning his back on America's farmers when we need him the most,' he added." (CNN, 5/13/2019)
"'Farmers have been patient and willing to let negotiations play out, but with each passing day, patience is wearing thin,' said National Corn Growers Association President Lynn Chrisp in the statement. 'Agriculture needs certainty, not more tariffs.'" (CNN, 5/13/2019)
###
About One Country Project 
The One Country Project, led by former Senators Heidi Heitkamp and Joe Donnelly, is working to promote greater opportunities for rural communities and ensure leaders earn their support. One Country is reengaging with rural Americans, serving as a clearinghouse of research and information for rural Americans, and working to ensure leaders regain trust by fighting for these communities. To learn more, visit the website, OneCountryProject.org.