Rural America has suffered from decades of underinvestment necessary for families and businesses to survive and grow. Today, technological change, regional inequality, trade wars, a global pandemic, and supply chain shocks have all challenged rural communities' well-being. However, with the Farm Bill's reauthorization on the horizon, Congress has an opportunity to ensure that this massive piece of legislation sets an agenda that enables rural America to prosper and thrive.
One Country Project has issued a letter to Congress laying out how this year's Farm Bill can secure a strong farming foundation, preserve the rural way of life, and make rural America's economy viable and vibrant today and tomorrow.
OCP Farm Bill Priorities
For too long, federal investment, private capital, and access to opportunity in rural America have lagged behind other regions' development. Under the Biden Administration, significant investments through the Bipartisan Infrastructure Law, CHIPS and Science Act, and Inflation Reduction Act have started to turn the tide, but a comprehensive vision for a 21st century rural America requires targeted aid. Congress cannot renege on its obligations to rural Americans nor can it raid programs the region has been promised. As it writes the next Farm Bill, Congress must capitalize on the opportunity to reinvigorate the entire rural economy and meaningfully improve people's day-to-day rural experience.
Read the full priorities letter here.
Securing the Farming Foundation
Grocery prices are high, food insecurity is worsening, and
increasingly extreme weather is likely to disrupt agricultural
practices, further exacerbating families' struggles to put food
on the table. At the same time, our current generation of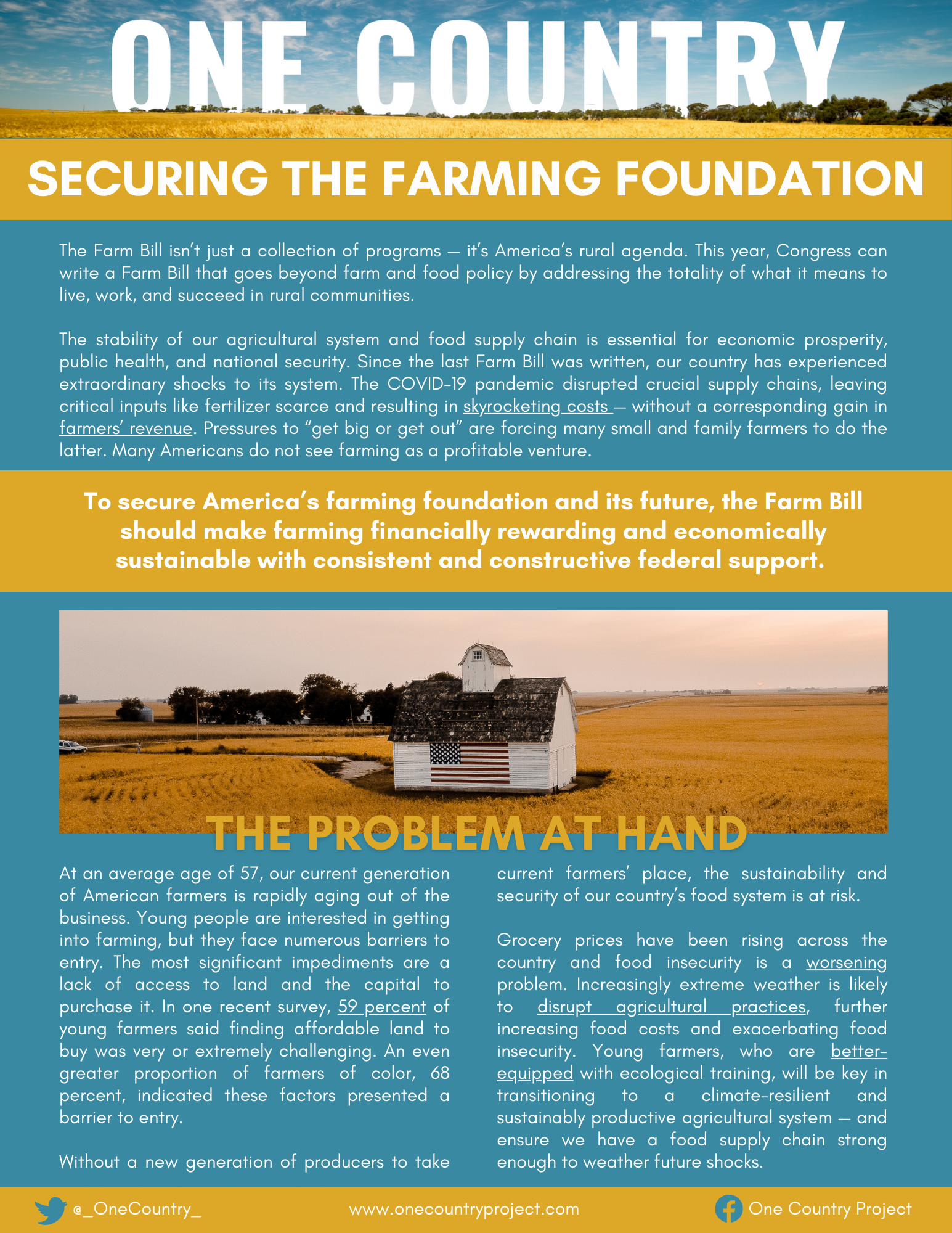 American farmers is rapidly aging out of the business. Without
a new generation of farmers to take their place, the
sustainability and security of our entire country's food system
is at risk.
To secure America's farming foundation and its future, the Farm Bill should make farming financially rewarding and economically sustainable with consistent and constructive federal support.
Young people are interested in getting into farming, but are impeded by a lack of access to land and the capital to purchase it. OCP recommends a tax credit for new and beginning farmers that better facilitates the transfer of land, livestock, and equipment between retiring farmers and the next generation of farmers.
READ MORE ABOUT SECURING THE FARMING FOUNDATION
Growing Rural America
Education, entrepreneurship, and access to capital create the
conditions for opportunity, but a continued disinvestment in
rural America has made it difficult for communities to
find an economic foothold – causing so many rural residents
leave their hometowns to seek success elsewhere.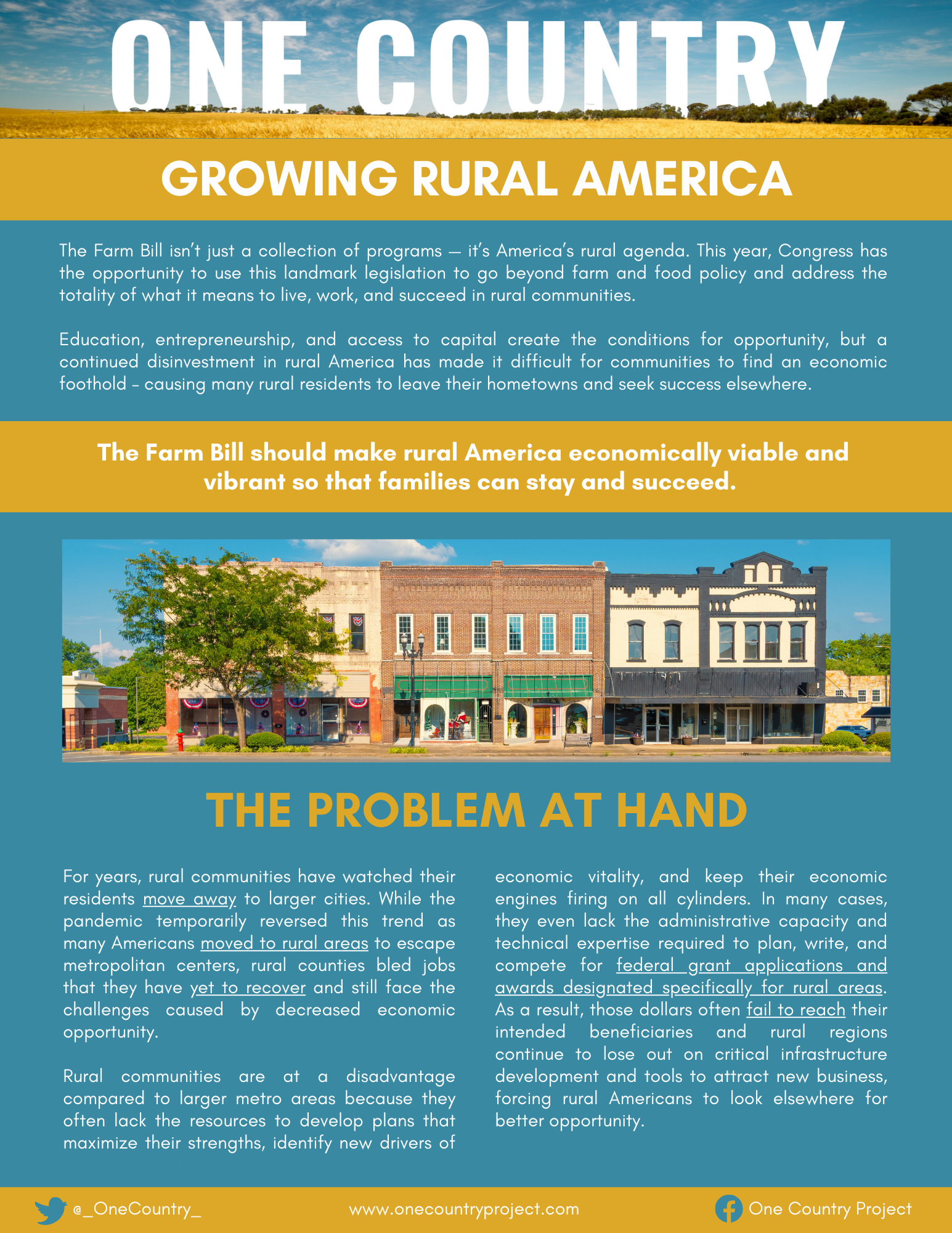 To provide opportunities to create a livelihood in rural America, the Farm Bill should make rural America an economically viable and vibrant destination for people to live in and grow their families. OCP proposes the creation of a Growing Rural Opportunity and Wealth (GROWth) Plan grant to help support rural communities develop plans to develop housing, rehabilitate neighborhoods and commercial districts, establish transportation and energy programs, and more.
Greater access to planning and development tools will help level the playing field for rural communities when competing for economic development and help lift regions that have faced stagnation and decline.
READ MORE ABOUT GROWING RURAL AMERICA
Living and Working in Rural America
Where one lives currently determines what services one can
access – and one's quality of life. Years of deprioritizing rural
America has created deserts in care, gaps in broadband, and a
population of 65 million being left further and further behind.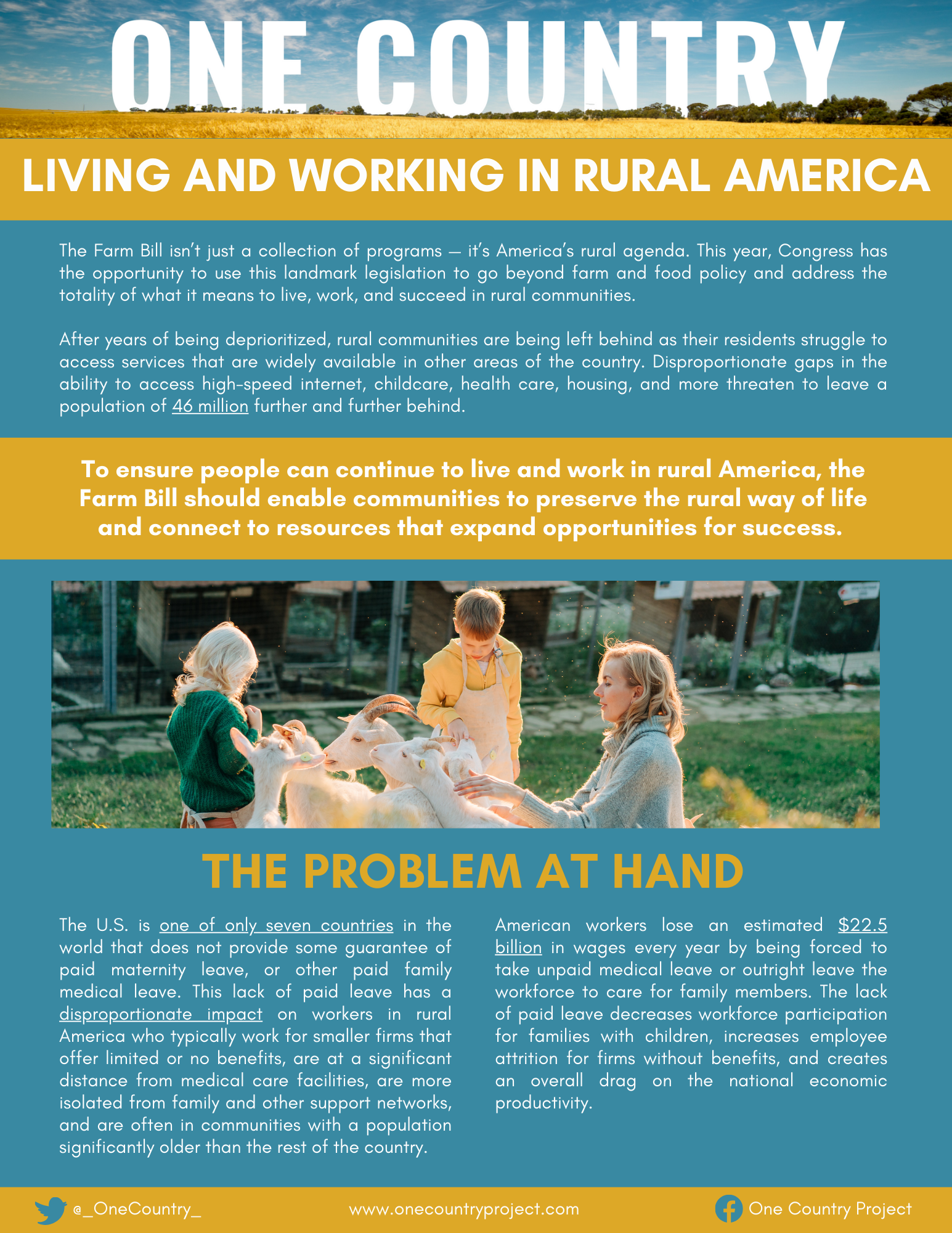 From internet to childcare, and health care to housing, rural
Americans are getting left behind because they lack the basic
tools and resources one needs to get an education, stay
healthy, go to work, and raise a family.
To ensure people can continue to live and work in rural America, the Farm Bill should enable rural communities to preserve the rural way of life and connect to resources that expand rural Americans' opportunities for success.